Website Design

City Electric, Inc.
City Electric Co. is a century-old electrical products distributor with locations all over New York State. Their new website features an updating list of brands stocked on CE shelves, information on where City Electric facilities can be found, and connect repeat customers with their "counter day" meet-ups.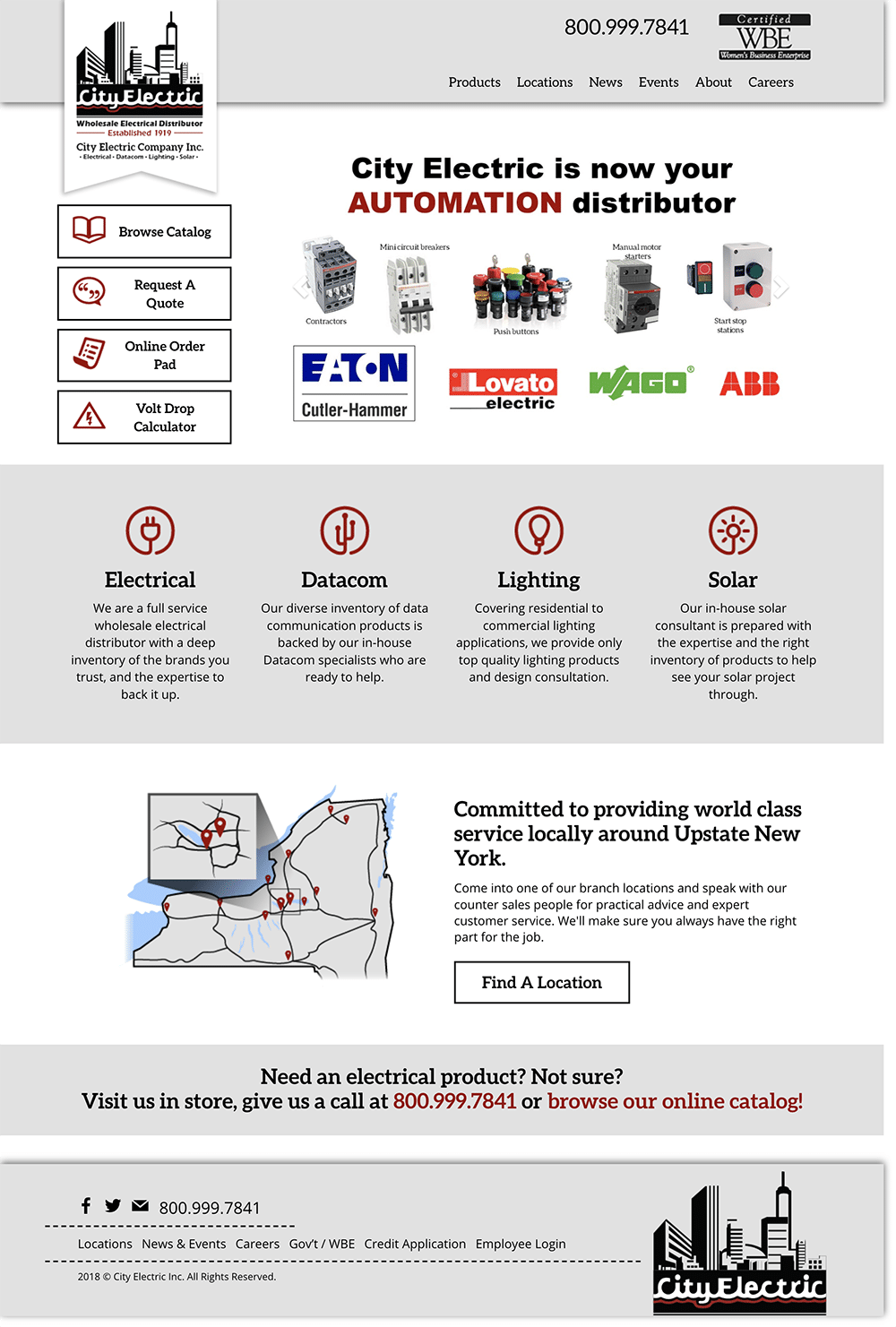 The Problem
City Electric's former website was, what we call in the industry "held together with scotch tape". It was a hassle to update and broke in a multitude of browsers and devices. They needed to replace both their customer-facing marketing website, as well as their internal-use intranet. Both websites needed to focus on usability, as frustrations with using the old site were mounting from electrical contractors that depended on City Electric for their supply and expertise needs.

Challenges
We underwent this project during a time of significant change within City Electric. In the process of moving home offices and reworking some aspects of their business, it was important that the website changes kept pace with the bigger picture at play. Our solution was to redesign both sites piecemeal; with the end-goal of "easily accessible" in mind, each piece of the site was designed and coded to flexibly meet City Electric's needs. Our focus on the important resulted in two robust websites that platform a whole lot of information, both to electrical contractors and the salespeople who service them.

The Solution
City Electric's new marketing website continues to facilitate the brick and mortar over-the-counter sales model central to how City Electric does business. Launched in July 2016, the site sees around ~2,000 new sessions each month, with "locations" as the most visited page. The new website processes 20% more online quotes, has collected over 750 job applications, and ultimately added value that resulted in the sale of the company a year and a half later. Not to mention, the re-done intranet has received great feedback from City Electric staff, who are happy to have a repository to find important documents and a calendar they can use to easily request time off.