Digital Marketing

Scotch N' Sirloin
Scotch N' Sirloin is a 50 year old fine dining establishment located in Liverpool, New York. The Scotch website features a gallery of entree and dessert photography, a selection of menus for their different seasonal selections, and information on hosted events such as wine tastings and live music.

The Problem
When the renovations at the Scotch N' Sirloin were finished, it was time to overhaul their digital presence to reflect the new furnishings. In addition to a new website, we revamped Scotch's image with new branding design that informed social media posts, email blasts, and coupons. Scotch needed to make a splash in the digital space to drive diners to come in and experience the fine dining they might otherwise overlook.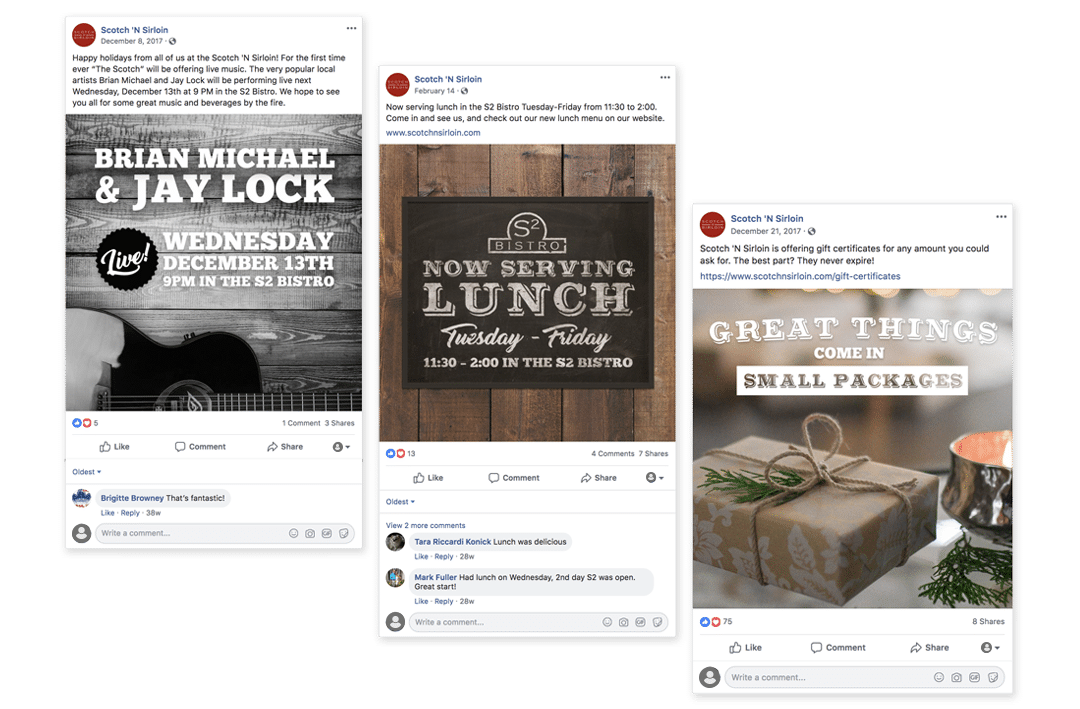 Challenges

As is the case with any restaurant, it was important that we include photography as a major element of the branding. After two in-house photography sessions, we had ourselves a nice repository of images to use for both the website, as well as digital outreach channels. From launch onward, we've continued to work on outreach – pushing musical guests, special discounts, and new lunch offerings to drive new traffic to Scotch.
The Solution
Once the website was launched, we let the new branding steer our strategy to appeal to an audience with a fine-dining affinity. A highly engaging email list (at a whopping 28% average open rate), combined with continued outreach and retention efforts on Facebook continues to drive new visitors to Scotch N' Sirloin to engage with their latest offers. Over half of website visits result in navigation to the menus, with Facebook outreach efforts making for 86% of site visits to be first-time visitors. With a peak visitation time between 3 and 6pm, traffic from the site continues to facilitate more visitors to the Scotch N' Sirloin location.