Website Design

Pyramid Shopping Centers
Pyramid Management Group manages a number of major North Eastern US shopping centers, including Destiny USA, Walden Galleria, and Palisades Center. Their new sites include an online tenant directory, areas for posting events, sales, and contests, and marketing real estate available for use by property tenants to promote their brand and products.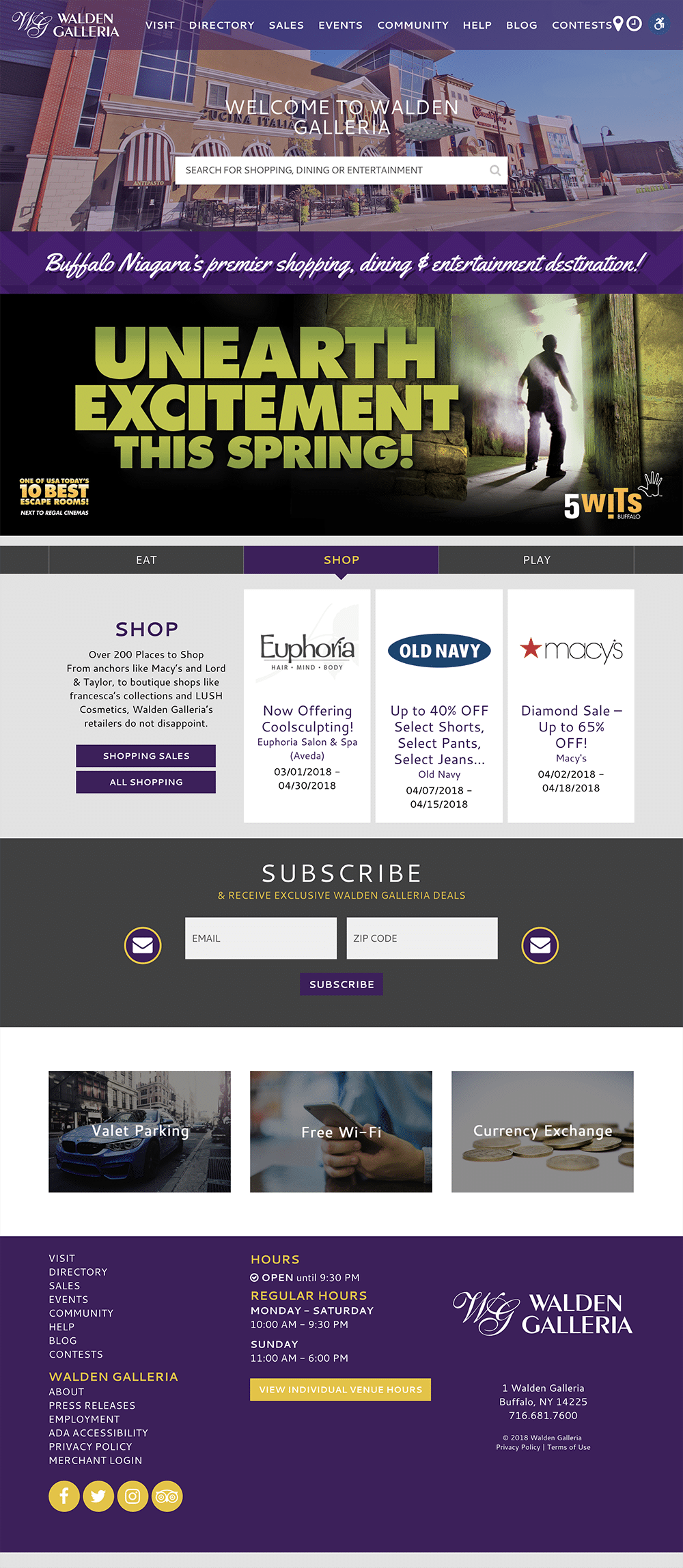 The Problem
The websites for Pyramid's fifteen major shopping centers were due for an upgrade. They weren't mobile-responsive, making them unusable on phones. Dark and ominous, they just weren't welcoming. Beyond that, they didn't reflect the new role of shopping centers as places to go for an entertainment experience, in addition to their multitude of retail and dining options. The new sites would have to act as a platform for the shopping centers, and the businesses therein, to communicate their value to audiences local, and beyond.

Challenges
This project presented some unique design challenges. The stakeholders didn't just include the shopping centers and PMG itself, but each and every tenant within those shopping centers. These businesses would depend on the site to inform the public and generate traffic. It was clear a one-size-fits-all solution wasn't going to work for all fifteen centers, which varied in size and audience. Flexibility would be key to the lifespan of the site; as the needs of each shopping center (and it's tenant businesses) ebb and flow, the sites would have to adapt to avoid becoming stale and unengaging.

The Solution
As with any large challenge, we began with breaking things into parts. The functionality that was essential to all fifteen centers, big and small, – directories, hours, maps, events, blogs, etc. – was nailed down first. From there, we explored new routes for empowering the businesses within shopping centers. We settled on constructing a "merchant portal", where businesses can log in to post new sales, events, giveaways – a whole host of marketing potential – right within their center's site. Destiny USA, their largest center, sees between 75,000 & 100,000 users, with over 66% of traffic coming from organic search.
---
The sites are more powerful than ever, and continue to grow! Our modular approach to development makes it so that whenever one center develops a new idea for the website we can make that functionality available to its fourteen sibling websites. This dynamic fosters a great deal of creative energy and innovation to improve the platform, ensuring the sites' place as a major tool in Pyramid's marketing arsenal to drive revenue through advertising and leasing promotion.