MACNY, The Manufacturers Association, is a not-for-profit association which provides its over 300 member organizations with valuable training and networking resources to help build their business. Their website acts primarily as a platform for members to interact with MACNY's breadth of resources, keep members informed on events, and act as a tool for recruiting new members.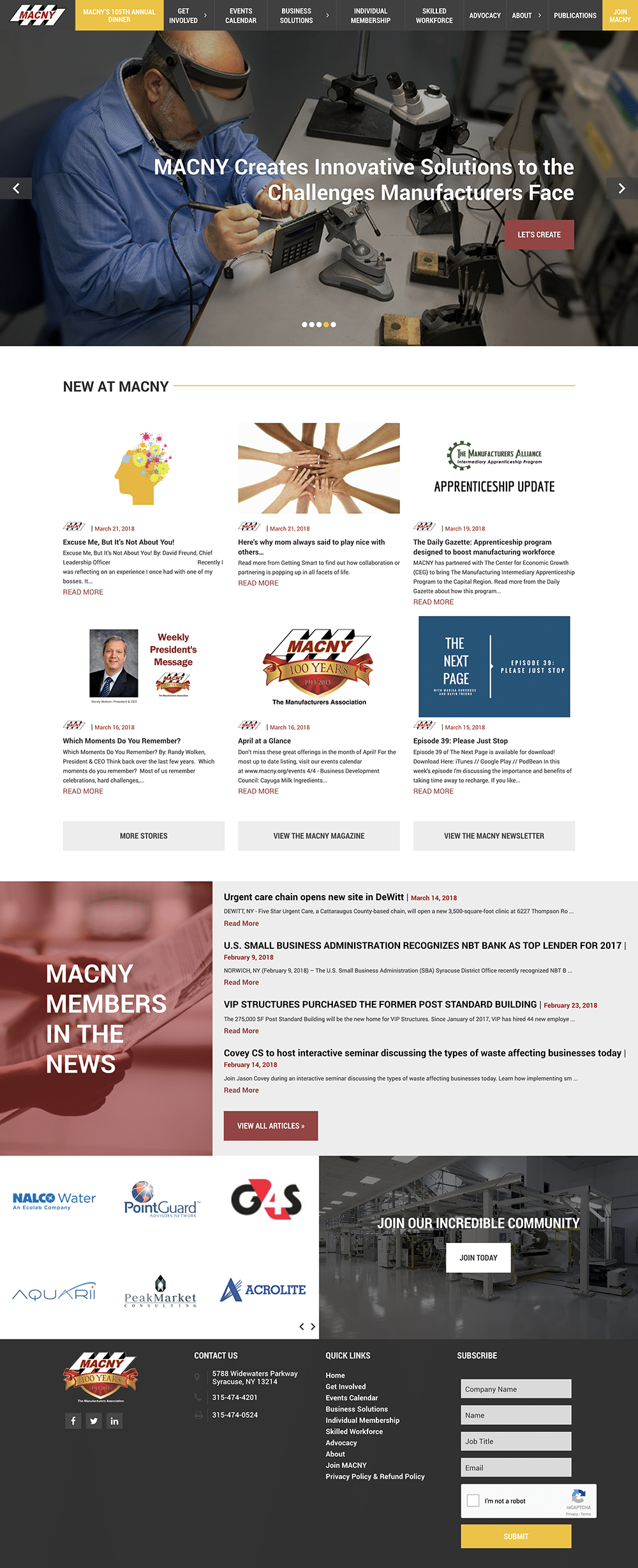 The Problem
When MACNY approached us for a new website, they had a good problem to have. Their old site, while difficult to access, was filled with valuable resources for any industrious manufacturing professional to use. The problem was, at its heart, one of information design. Taking an organization the size of MACNY and representing its many moving parts faithfully in a digital space was something like wrangling cats. Attention had to be made not only to cultivating content that resonates within manufacturing companies but in following up with the intention of adding new members to the association, where they can access membership-exclusive perks.

Challenges
When starting design, we discovered MACNY's branding needed some attention so that it would be flexible enough to drive a large, deep website. After pinning down a color scheme (careful to not be industry-specific) and type-aesthetic, we switched gears to focus on the information hierarchy within the site. We developed a robust system of navigation to support its many moving parts, and made sure to "cross-pollinate" deep links to keep the users moving through the site from section to section. The most important part to get right was MACNY's bread and butter; their events. The chosen solution had to be flexible enough to host a multitude of events, some months out while collecting registrations, payments, and creating calendar events for attendees.
The Solution
Launching in December 2016, the site quickly got to work on its goal to retain visitors and convert them to MACNY members. With peak traffic on weekdays between 9-5PM, and an average of 4.75 pages per session, the valued content MACNY continues to publish keeps industry professionals reading. We saw a 400% increase in the number of site visits in the months following launch, with over 150 new additions to their mailing lists, and most importantly: 80 new membership inquiries! The MACNY site continues to grow at pace with the CNY manufacturing industry, constantly diversifying and building authority as the CNY manufacturing association.