Website Design

Community Memorial
The new Community Memorial website provides detailed information on CMH's health services, connects patients with their healthcare provider, and offers important information on the locations and offerings of each of their centers.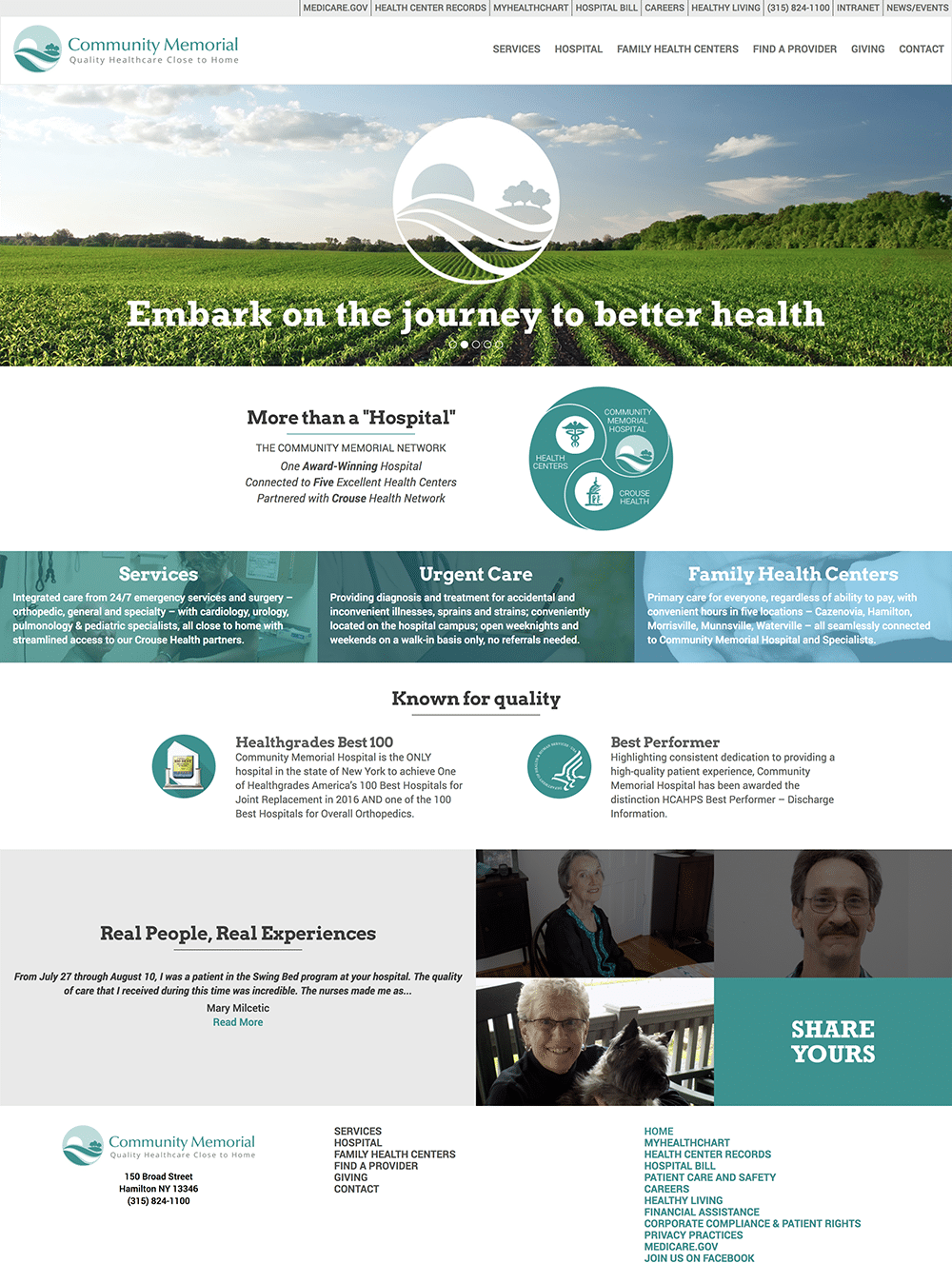 The Problem
Community Memorial needed a digital home-base for its network of health centers in and around Central New York. With an audience that has varying needs and degrees of computer knowledge, the site had to be designed with accessibility in front of mind. The site was to provide as much information as possible to patients so they could proceed with confidence to either schedule an appointment at one of their health centers, or find the right location for the appointment they already have.

Challenges
Due to the breadth of Community Memorial's offered services, the site is incredibly information dense. With medical information, especially, it's extremely important to communicate clearly and effectively to ensure a smooth patient transition. Special attention had to be made to the dynamic typography system powering the site to ensure that present and future content would have the hierarchy necessary to be read and understood. Beyond usability concerns, it was important that we push the "human" side of medicine by providing stories of recovery and comfort when dealing within the Community Memorial network.

The Solution
Community Memorial's new website launched in 2016. Its impact resonated with its patients, who appreciated the ability to quickly find information about CMH services before coming into a facility. The marketing site quickly expanded to include a custom-built employee intranet for storing and accessing documents, and an added navigation for quickly finding health reports and bill payment platforms. The site sees about 11,000 visits per month and retains those visitors for an average of 3.6 page views. 36% of traffic comes directly from within the town of Hamilton, with the majority of whats leftover coming from other Central New York cities.
[/offset_text]