Website Design

Liehs & Steigerwald
Liehs & Steigerwald is a long-standing Central New York butcher and deli. Their new website features full-fledged deli & butcher menus, a highly dynamic hero area, and links to order out online or by phone.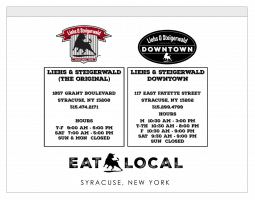 Liehs & Steigerwald is much more than your friendly neighborhood butcher shop. With the opening of their new downtown location, their old digital presence was no longer going to cut it. Their former web presence consisted only of a Facebook account and a landing page with the address of both locations. It was important for a new website to reflect both locations accurately, and properly convey the breadth of the many offerings available at each location.
Vision & Goals
While the original location was to continue offering the excellent butcher and grocery services it had for years, the new location had a lot more on offer, including deli lunches, a bar, and an additional location to pick up meat. In addition to that, we were to re-vamp some old featured that had fallen to the back burner such as catering services, and heat-&-eat meal offers. GrubHub integration was also key, as a large portion of sales from the Downtown location are made online for take-out.
From a high level, the goals for the new site were to:
Get people hungry, and make it easy for them to order food online and in-person
Position the L&S brand as the long-standing local expert on butcher meats
Providing a platform to advertise their events and special services, such as catering
Planning & Wireframes
Our solution was to keep things simple, put the food first, and generate new mobile & print-friendly PDF menus so that visitors could know exactly what's offered. Starting with wireframes, we decided on a single page website to keep things as simple and accessible as possible. A fixed nav would allow for quick scrolling to the sections for locations/ hours, what's on offer at the deli, and information about quality butcher meats. A single page site would also work particularly well on phones – the devices our analytics conveyed were being used most to visit the site.
Liehs & Steigerwald also required the inclusion of a few dynamic pieces of content, including the rotating "Burger of the Week," as well as a platform for trivia events and holiday specials. To meet this need, we envisioned a highly dynamic hero slider, which our client could use to deep-link down the page, or to Facebook.

Content & Design
Since "putting the food first" was vital to get people hungry, it just seemed necessary that we generate some high-quality photography of their signature dishes and delicious deli offerings. Over the course of an afternoon, we performed a photo shoot on location in their downtown deli dining room, photographing the plated meals as they get served up each day. Later, we moved to the original butcher location to take some shots of the deli case, and a little behind-the-scenes action with the owner, Jeff Steigerwald.
The resulting photos served a very important purpose in executing our vision because, after all, reading about food is never as appetizing as seeing it for yourself. This is especially true when you're deciding what you want for lunch. As an added bonus, we uploaded the photos on their GrubHub account, further setting them apart from the multitude of Syracuse restaurants that don't include photography of their food on their digital platform.

What came last was developing the tone of the copy for the site. In keeping up with their local, neighborhood butcher shop vibe, we kept the language on the site casual and helpful – like how your butcher would talk to you.
Development & Launch
Because the site was to be maintained by employees of the restaurant, who don't have a ton of technology experience, it was important to keep the back-end simple without sacrificing flexibility. A short training seminar kicked off the launch process, followed up with documentation on how to efficiently add or replace dynamic content. After one last round of proofing, we launched in early June 2017. The reception of the new site was stellar. Site visitors appreciated having the full menus available to them, and the die-hard lunchers were ecstatic to see the Burger of the Week was now posted online, not just in-store. It was even reported that Jeff Steigerwald's kids were telling their friends on their lacrosse team to go check out their dad's cool new website! Overall, a resounding success.