Website Design

Discovery Studios
The new Discovery Studios Website provides a portal for casting calls to generate new shows, a dynamic about & teams page, and in-depth subpages for each of their television shows – complete with network information, image stills, and meaningful descriptions of each show.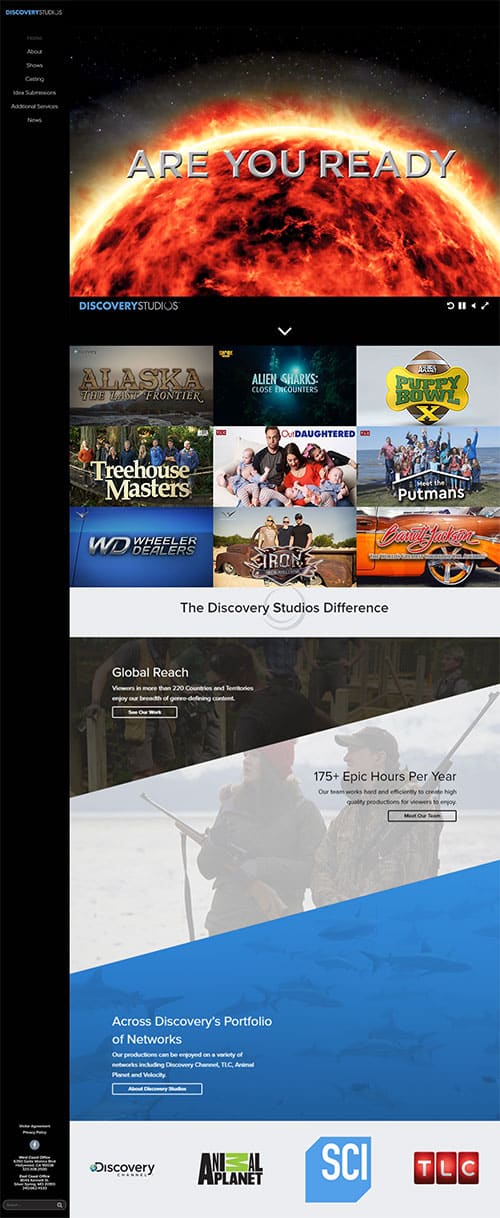 The Problem
Discovery Studios needed a new website to compete within the TV production industry in Los Angeles and New York. Working within an established brand aesthetic, it was important the website faithfully represent their massive breadth of shows spanning multiple popular networks and genres. Beyond that, we aimed to develop a platform that would facilitate Discovery's interaction with the potential reality stars, writers, and other industry professionals.

Challenges
Special attention was made in establishing the hierarchy of the site. Given their impressive portfolio of recognizable shows, we conveyed their authority in the space by letting the work speak for itself directly on the homepage. The website also serves a more abstract purpose – to engage the public at large to discover ideas for new shows, potential talent, and feedback on programming – so we empowered Discovery with the ability to publish "casting calls" to fill their ranks.

The Solution
Because the showreel is the most engrossing means to engage with Discovery Studios, we placed it front and center on the homepage, coding a solution that invites the viewer to begin their experience by clicking "play." The rest of the site fell into place under the mantra of "let the work speak for itself"; we leaned on Discovery's track record of top-tier productions to build their digital voice.
---
On launch, the new site brought in additional 6000 visitors in the first 6 months, with the majority of traffic coming from where we want it to in NYC and LA.  The site has collected hundreds of new show ideas, as well as dozens of entries into each of their active casting calls, solidifying their new website not only as the authority building platform it was intended to be but as a tool to help expand Discovery Studio's portfolio of beloved television programs.